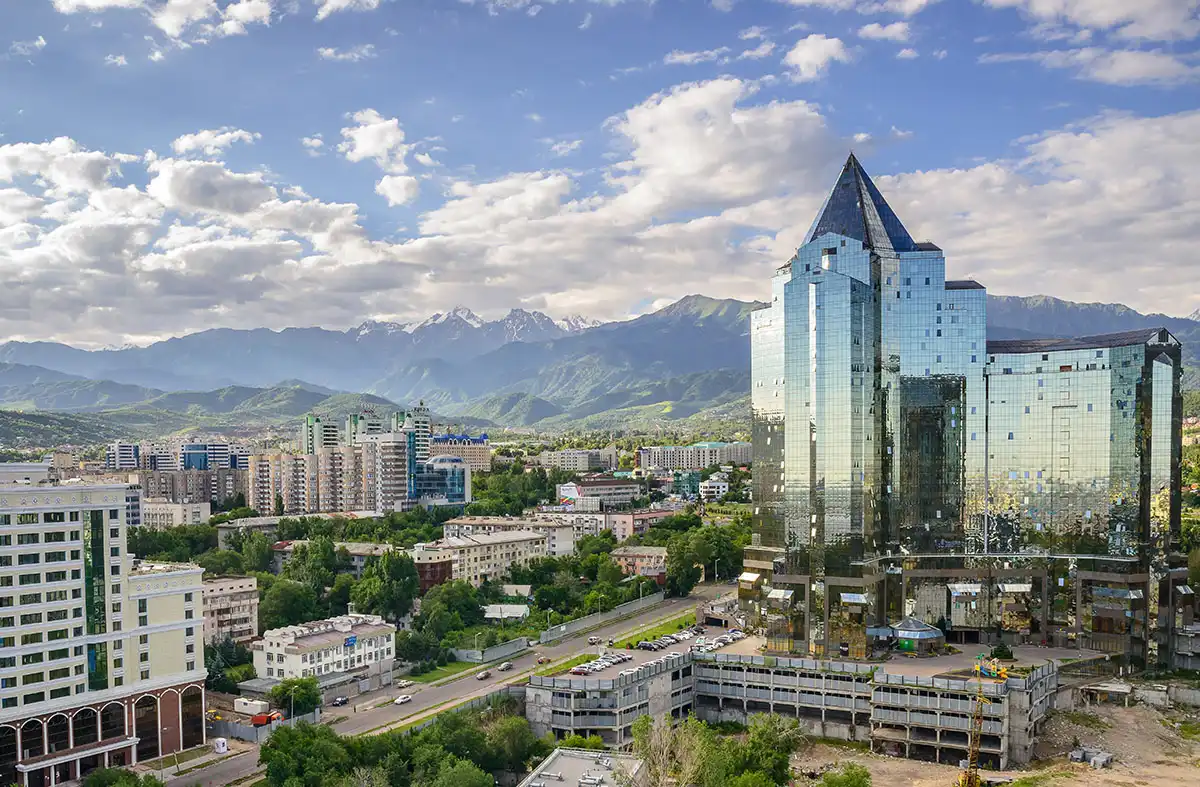 Almaty is the largest prosperous city Kazakhstan. Once in it, you can sometimes get the feeling that you are in Europe, so many advertisements of world brands along the roads and shiny new foreign cars honking at each other during rush hours. It is a sunny city surrounded by greenery, with wide streets, beautiful buildings, numerous parks and squares.In Almaty there is an international airport connected by flights with more than 40 countries around the world. Lufthansa, KLM, Turkish Airlines, Austrian Airlines, Transaero and other airlines land here, which makes the city easily accessible for international tourism.
Location of Almaty
Geographically Almaty city is located in the heart of Eurasian continent, on the south-east of Kazakhstan, in the foothills of Zailinski Alatau, the very northern Tien Shan mountain range.And in the suburbs, literally, in 10-15 minutes` journey there are unique places famous all over the world- mountain skating ring Medeo and skiing resort Chimbulak.
Climate of Almaty
Climate in the city is continental, with big fluctuation in temperature not only during a year but also during a day. In Southern blocks of the city, on the height of 1500-1700 m. above sea-level, in the hole Medeo and on the Kamenskoe plateau you can feel freezing breathing of ice-shelves. 
Demography of Almaty
Official estimates put the population of Kazakhstan at 15.7 million as of 1 July 2008, of which 47% is rural and 53% urban population.The 2008 population estimate is 4.8% higher than the population reported in the last census from January 1999 (slightly less than 15 million).
There are two dominant ethnical groups in Kazakhstan, they are ethnic Kazakhs (53.4%) and ethnic Russians (30%) with a wide array of other groups represented, including Ukrainians, Uzbeks, Germans, Chechens, Koreans, and Uyghurs - that is, virtually any group that has ever come under the Russian sphere of influence. This diverse demography is due to the country`s central location and its historical use by Russia (under the government of Stalin) as a place to send colonists, dissidents, and minority groups from its other frontiers, especially Volga Germans, Poles, Ukrainians, Crimean Tatars, Kalmyks. This makes Kazakhstan one of the few places on Earth where normally-disparate Germanic, Indo-Iranian, Koreans, Chechen, and Turkic groups live together in a rural setting and not as a result of modern immigration. Most of the population speaks Russian; only half of ethnic Kazakhs speak Kazakh fluently, although it is enjoying a renaissance. Both Kazakh and Russian languages have official status.
Architecture of Almaty
Rich 150-years old history of Almaty is reflected in numerous historical cultural monuments, and also in contrasting architecture of the city- from ancient buildings in a fortific style up to brand new high-rise buildings. Formation of the city, its culture has ancient traditions. Despite the cosmopolitan architecture of Almaty, elements of national coloring are particularly pronounced here. Distinctive feature of Almaty city is also that from the moment of its establishing, it was built over micro districts, meant for settlement of new coming immigrants. Thus, in the areas of compact inhabitance of national Diasporas, architecture was formatting in accordance with their culture and way of life reflecting national traditions and beliefs.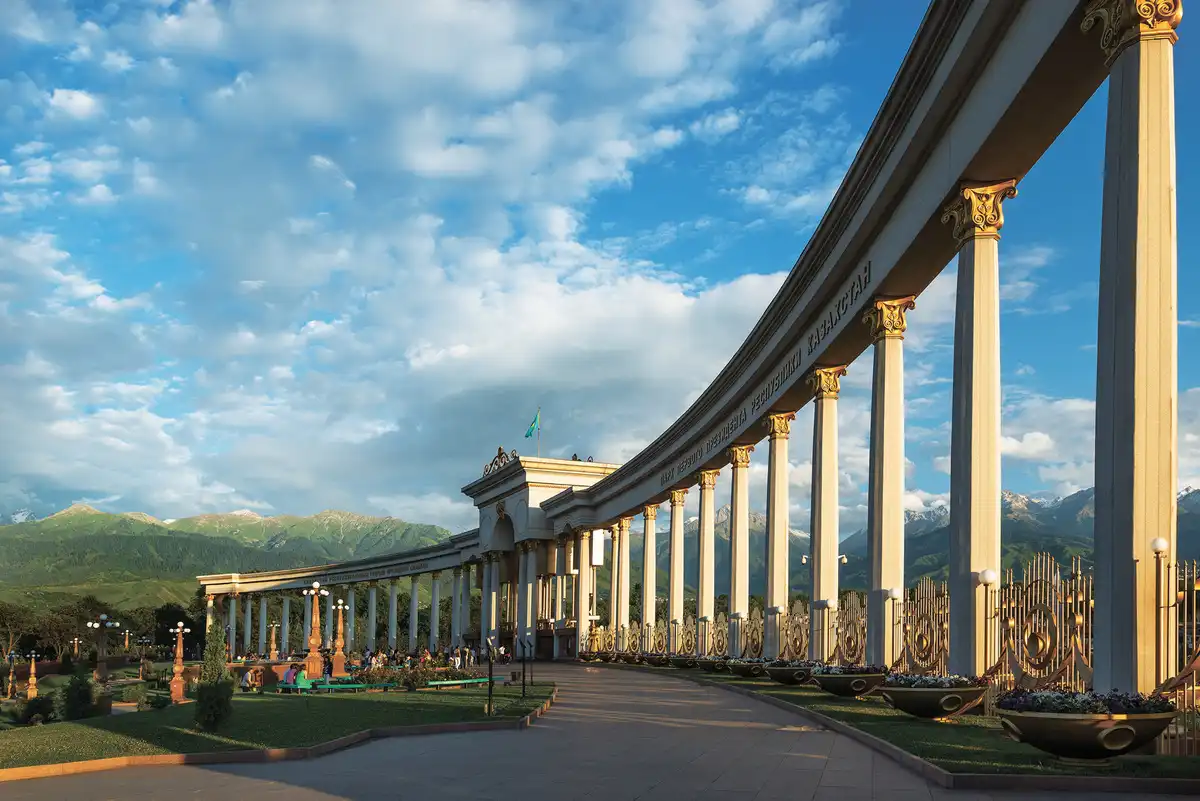 History of Almaty
The first settlements of early farmers and herders in the territory of the modern Almaty appeared in the Bronze Age in the X-IX centuries BC. In the VII century BC – till the boarderline AD, in an era of Saks, Almaty became the habitat of Saks and later Usunsk tribes. The Middle Ages were a time of urban culture development, transition to a settled way of life, development of agriculture and handicrafts, and the emergence of numerous urban settlements. In the X-XIV centuries, cities situated on the territory of "Greater Almaty" are becoming the centres of trade along the Great Silk Road. In the XV-XVIII centuries in connection with the extinction of Great Silk Road, in the area occurred a degradation of urban life. However, exactly here emerged a distinctive culture Zhetysu. In these places, gravitating to the area of Almaty, the Kazakh state arose and Kazakh folk start to form.
More...
Internet resources on Almaty and Kazakhstan
Uzbekistan Tours - Private and scheduled tours in Uzbekistan from Almaty
Almaty - Sights of Interest